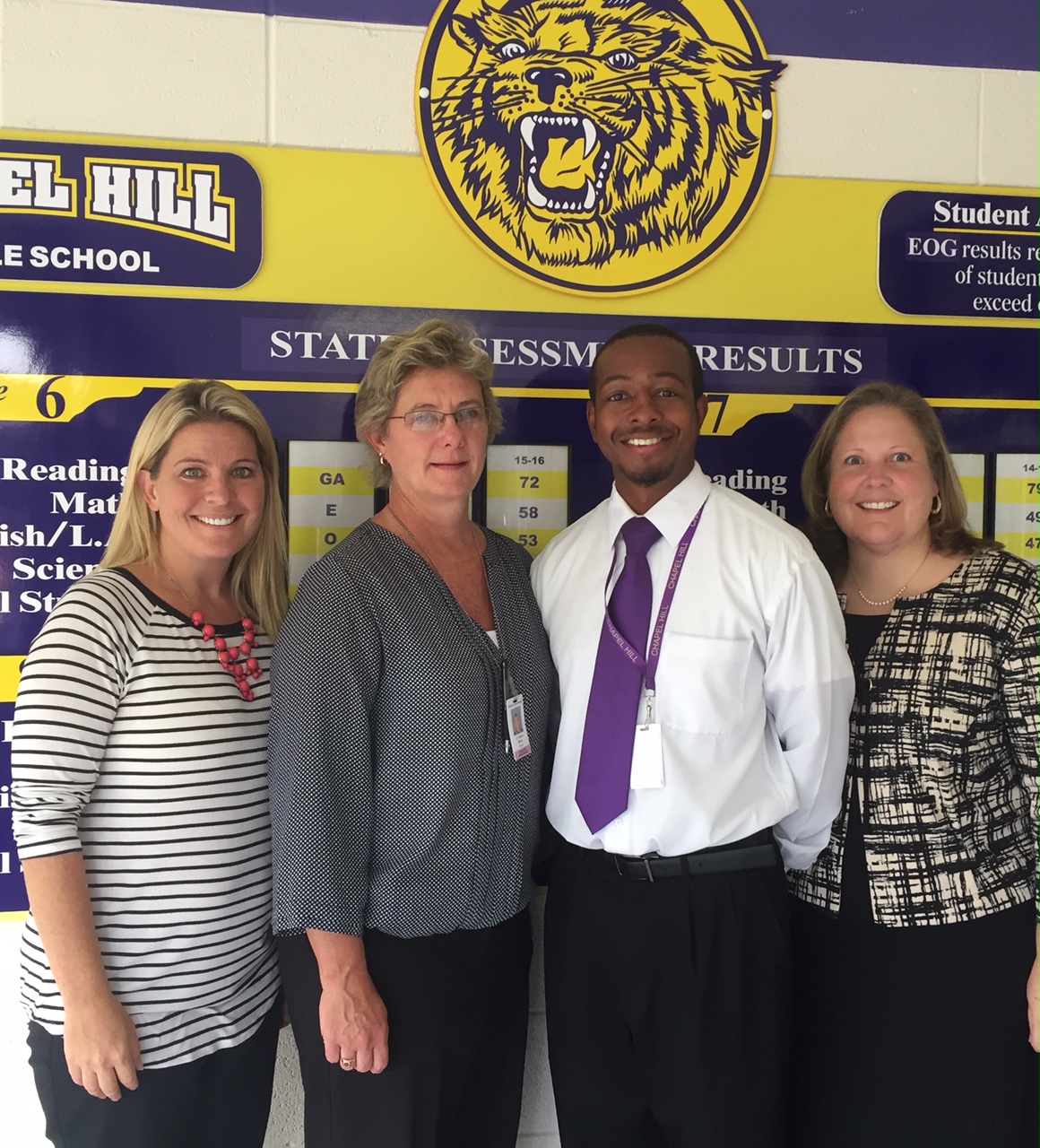 Administrative Team

Dr. Jolene Morris, Principal
Stephanie Godfrey, Assistant Principal
Amy Ludlow, Assistant Principal
Jamar Graham, Assistant Principal
Chapel Hill Middle School -
An Advanced Academic and Fine Arts Theme School
By: Dr. Jolene Morris, Principal
The Chapel Hill Middle School faculty and staff is excited to begin our 2017-2018 school year! Our goal at CHMS is to continue to increase academic rigor for all students in a 21st Century learning environment. We will continue to provide a Bring Your Own Device (BYOD) opportunity for our seventh and eighth grade students only!! As in years past, our 6th grade students will not be allowed to participate in the BYOD program – all 6th grade students should leave all devices at home for the school day. Technology will be utilized for teacher-led instructional purposes only.
In reflecting on our accomplishments from last school year, our students and school community continue to work towards excellence in all areas. All stakeholders work tirelessly in meeting our mission of developing the whole child academically, physically, socially, emotionally and creatively.
Our school had much to celebrate from our 2016-17 school year. Our 2016 College & Career Readiness Performance Index score was 84.7, the highest score among Douglas County Middle Schools. This score is based on academic achievement, academic progress, closing the achievement gap, and providing academic challenge. Our students, parents and staff continue to work tirelessly to ensure a strong academic program at CHMS. Our school successfully implemented year one of the Douglas County Accelerated Math program. Students qualified for this program upon entering the 6th grade and they were allowed to work at an accelerated pace and will earn one high school math credit at the conclusion of their 8th grade year.
Our school Reading Bowl Team won the state TOME Society competition for Middle School, with one of our students earning top honors in individual competition. Many students earned accolades at the county, region and state Science and Engineering competitions. Three students won state-level awards in Athens during April 2017.
The athletic programs at CHMS also continued to be successful. Both Boys and Girls Track teams celebrated championships for the 2016-2017 school year. Our 7th grade Boys Basketball team earned the County Championship, as did both 8th grade Boys and Girls Basketball teams. These 4 Championships add to the 115+ Championships Chapel Hill Middle School has attained over the years. Our girls Softball team was the County Runner-up. Chapel Hill Athletics honored over 15 All-Conference athletes this school year, with 3 school track records broken, 1 county track record, and another tied record. Our Athletic program continues to be strong for our school community.
In addition to our athletic success, Chapel Hill Wildcats also proved to shine in regards to our Fine Arts programs. Our Band students were able to participate in field trips that exposed them to the Spivey Hall Jazz program and the Georgia Southern concert band. Our students received superior ratings at multiple festivals many of our students were selected to Douglas County and GMEA District 7 Honor Bands.
Our Choral program also celebrated many successes this 2016-17 school year. Our students entertained our school community with 3 concerts, the Annie, Jr. musical, Black History Month celebration and DC Courthouse performances this school year. They also participated in Six Flags' Music in the Parks program. Our group named several students to the DC Honor Chorus and GMEA All-State.
We invite all CHMS parents to visit our website www.chmswildcats.com to review the details of our CCRPI rating, updated student handbook and other important information.
I, along with my Assistant Principals ~ Stephanie Godfrey, Jamar Graham and Amy Ludlow, look forward to working with all of our CHMS families in 2017-2018.